One of the unique characteristics that people have is their voices. Although every voice is different, most of them can be categorized into one of the defined vocal ranges. There are six common voice types, including bass, baritone, tenor, alto, mezzo-soprano, and soprano.
If you are a singer, you might already know what these vocal ranges are. If not, it is important to learn so that you can determine which one describes your voice.

What Is Vocal Range?
Vocal range is the range that extends from the lowest note you are able to sing to the highest. Some people only cover part of a range, while others are able to extend into two ranges. However, your range is the one where you can sing the most notes the most comfortably.
Music and tones are divided into musical notes, which are part of the vocal range. Generally, the middle is the middle C note on a keyboard. You should become familiar with the notes and look at the middle range, which starts at the fourth C on the keyboard.
Then it travels up in the order of C, D, E, F, G, A, and B. Each set of eight notes is an octave, and you should find the octave that is most comfortable for you when you are choosing your range.
Next, you can look at the six categories of voice type. The lowest three types include bass, baritone, and tenor, and they are typically assigned to males. The three higher voice types are alto, mezzo-soprano, and soprano. They are typically associated with female voices.
Bass
The lowest voice type is bass. It is usually associated with a male voice, and it lies at the lower end of the keyboard somewhere between E2 and E4. However, some people can sing the lower end of the scale, which is C2, and others can sing on the higher end, which is G4.
Baritone
The next range up is the baritone range, which overlaps bass on the low end and tenor on the high end. It is also mostly associated with male voices. Normally, baritone ranges from A2 to A4, with the low end falling on F2 and the high end falling on C5. This is the range that most men's voices will fall into.
Tenor
The highest type of male voice is the tenor voice. Normally, tenors range from C3 to C5, and they can reach into notes that are considered to be in the female voice range. Men who can sing higher notes in the tenor range are often considered countertenors.
Alto
The next voice range is the alto, which is the lowest female voice type. The alto range goes from F3 to F5, and some can sing lower notes. They are called contraltos, and their range is often similar to that of a tenor. They usually have a rich, full voice when they sing the lower notes. Some people in higher ranges can hit those notes, but without the same strength.
Mezzo-Soprano
The middle range for female voices is called the mezzo-soprano. Voices that fall in this range can often hit notes in either the alto or the soprano range as well, and they fall between A3 and A5. Sometimes the mezzo-sopranos will sing the same voice part as the sopranos until they split off into their own parts.
Soprano
The highest range for singing is the soprano. It falls between C4 and C6 on the keyboard. This is a female voice, and they can sing into the range of mezzo-sopranos as well.
Why You Should Find Your Vocal Range?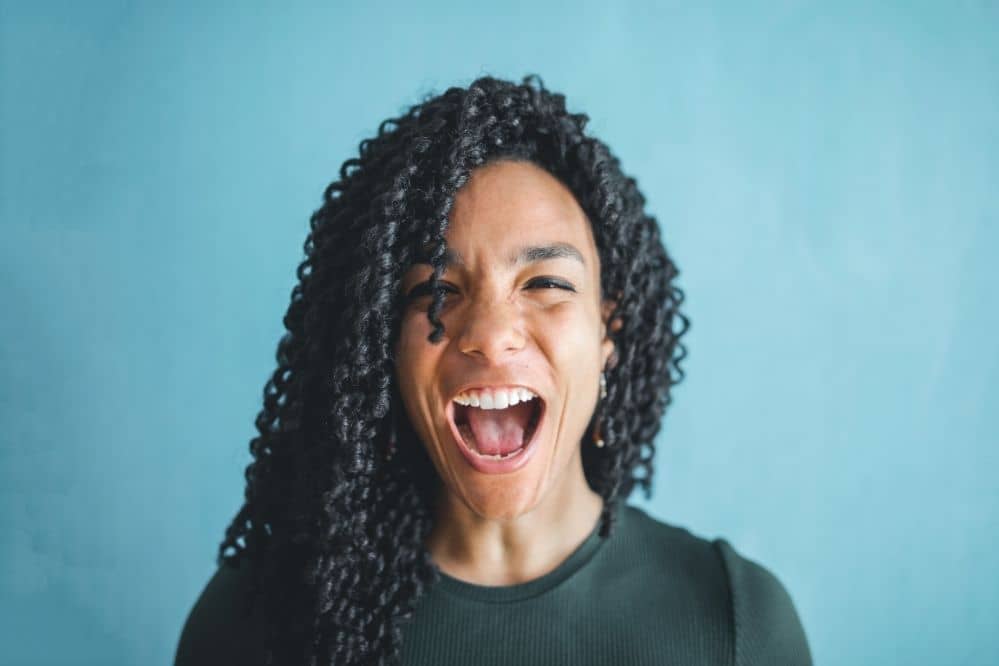 It is important for you to find your vocal range because it will help you determine which songs you are most comfortable singing. Everyone has a different voice, and it is important to understand that every voice has a set vocal range. You might want to sing a particular way, but you need to stick with your ideal range if you want to sound great and hit all of the notes in your song with a full voice.
The first step in becoming a singer is to find your vocal range. When you begin developing your voice and taking singing lessons, you need to focus on your voice and what you can sing best.
However, it is important to remember that there are other elements that you need to consider once you know your range. You will want to learn about sound characteristics, tessitura, and timbre as well. This is all part of your development as a singer, but your vocal range is the first thing that you need to know. Everything else will stem from there.
How to Determine Your Vocal Range?
There are a lot of different ways to determine your vocal range. With the Internet, there are many different tools you can use. You can find apps online, or you can take voice lessons. You can take lessons in person or online to develop your voice. You can also take this time to find out what your ideal vocal range is.
Many people learn what their vocal range is by singing along with a piano. You can do this on your own if you have access, or you can work with someone else. You should start with the middle of the keyboard, on the fourth C (C4).
When you sing along with the piano, choose a sound such as "Ah" and move up and down from the C4 note. Continue singing along with each note to learn the low note and the high note in your range. When you reach a note that you can't sing, you will know it. Your voice could crack, or you might notice that you have to strain your voice to hit the note.

As you go through the notes, be sure to notice where you are most comfortable singing. The fact that you can sing a super-low or super-high note doesn't necessarily mean that it is within your range. You need to be comfortable in the notes, and your voice should sound full. You shouldn't have to struggle or strain your voice to hit the note.
Once you finish, write down your lowest and highest notes where you can sing comfortably. Then, you can look at the categories and determine where your voice fits in. This will tell you what your vocal range is.
Your vocal range is the notes that your voice is naturally suited to sing most comfortably, but you can train your voice to expand it. Generally speaking, your vocal range is determined in part by genetics. It has to do with the shape and size of your vocal folds, your skull, your nasal cavities, and the structure of your face.
Some people are born with everything they need to be a great singer, but singing is also an acquired skill and you can develop your voice. Singing lessons are designed to help you train and develop your voice and gain control over it.
Final Words
You can learn your vocal range by learning the six categories of voices and then understanding how to use a piano to find your ideal range. You can also use an app online to find out where you sing most comfortably. Once you find your vocal range, you can practice singing so that you can learn to train and control your voice.